Battlefield 2042 open beta dates officially announced, new trailer released
Battlefield 2042's open beta will run from October 6th to October 9th, EA and DICE have announced.
Players who have pre-ordered the game or who have an EA Play subscription can start playing on October 6th at 12 a.m. PT. Everyone else will have to wait until October 8th to jump in.
The beta will only feature one map and one game mode: Conquest on Orbital. Xbox Series X/S, PlayStation 5, and PC players will play on 128-player servers; Xbox One and PS4 are limited to 64-player servers. Four of the previously revealed Specialists—McKay, Falck, Casper, and Boris—will be available to use.
A new trailer, showcasing Orbital, accompanied the announcement. The trailer features the game's new tornado tech, as well as Orbital's space shuttle centerpiece going kablooey.
DICE has updated the PC requirements and now recommend GPUs of either the NVIDIA RTX 3060 or AMD Radeon RX 6600 XT, as well as 100 GB of hard drive space. It's unclear how big the actual download will be.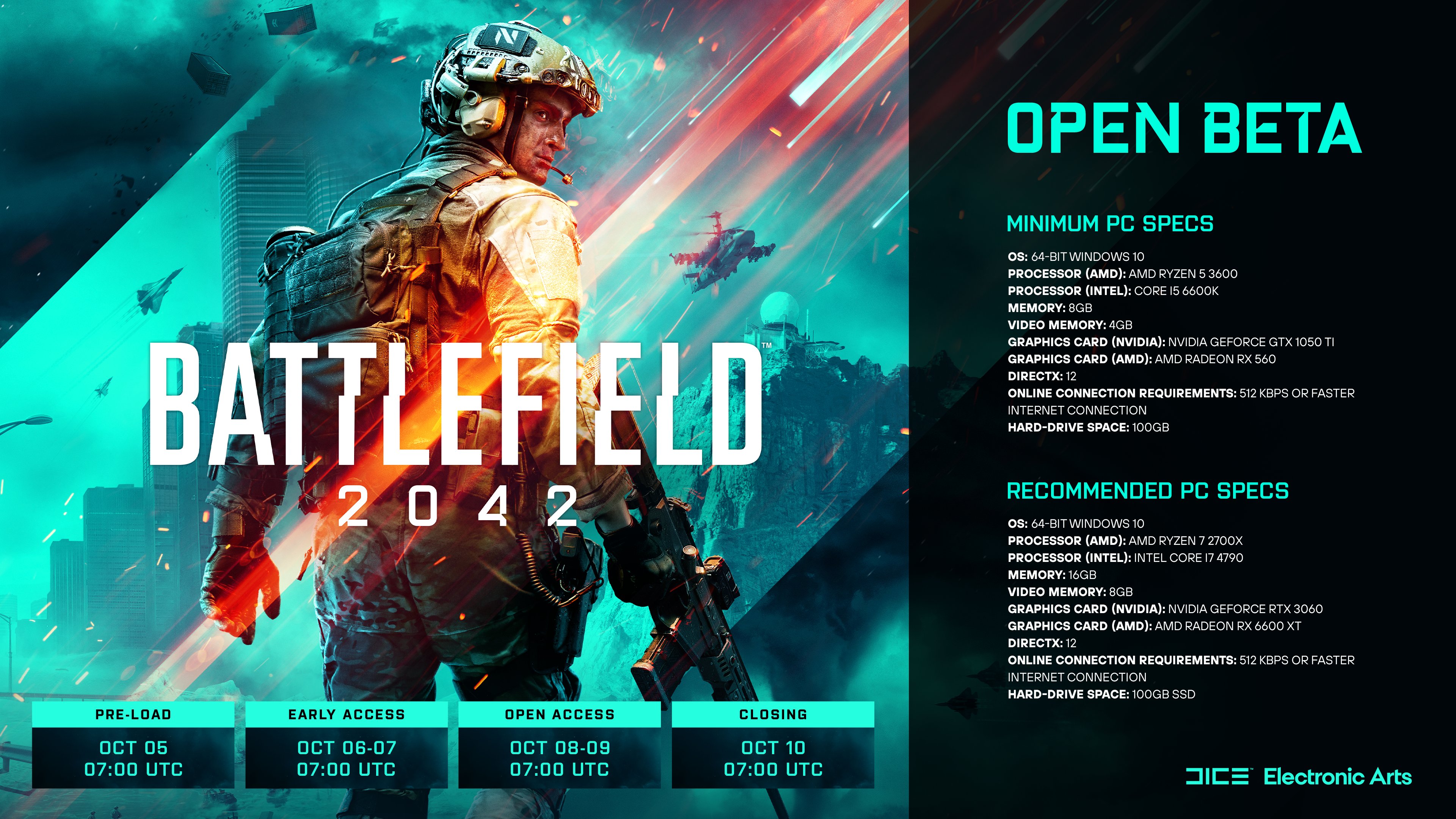 Progression and mastery
Battlefield 2042 will have a battle pass system that will let you unlock new cosmetics throughout each season, but the question remains: How will players earn XP to unlock these cosmetics? Thankfully, DICE also released a ton of new information in regards to Battlefield 2042's progression system.
First off, ribbons are back, but in a slightly different form from previous titles. All told, Battlefield 2042 will only have five different ribbons that correspond to different actions: Objective, Wingman, Logistics, Intel, and Combat. Each ribbon will have three tiers that you can unlock by the end of each match. The higher the tier, the higher your XP reward is at the end of each match.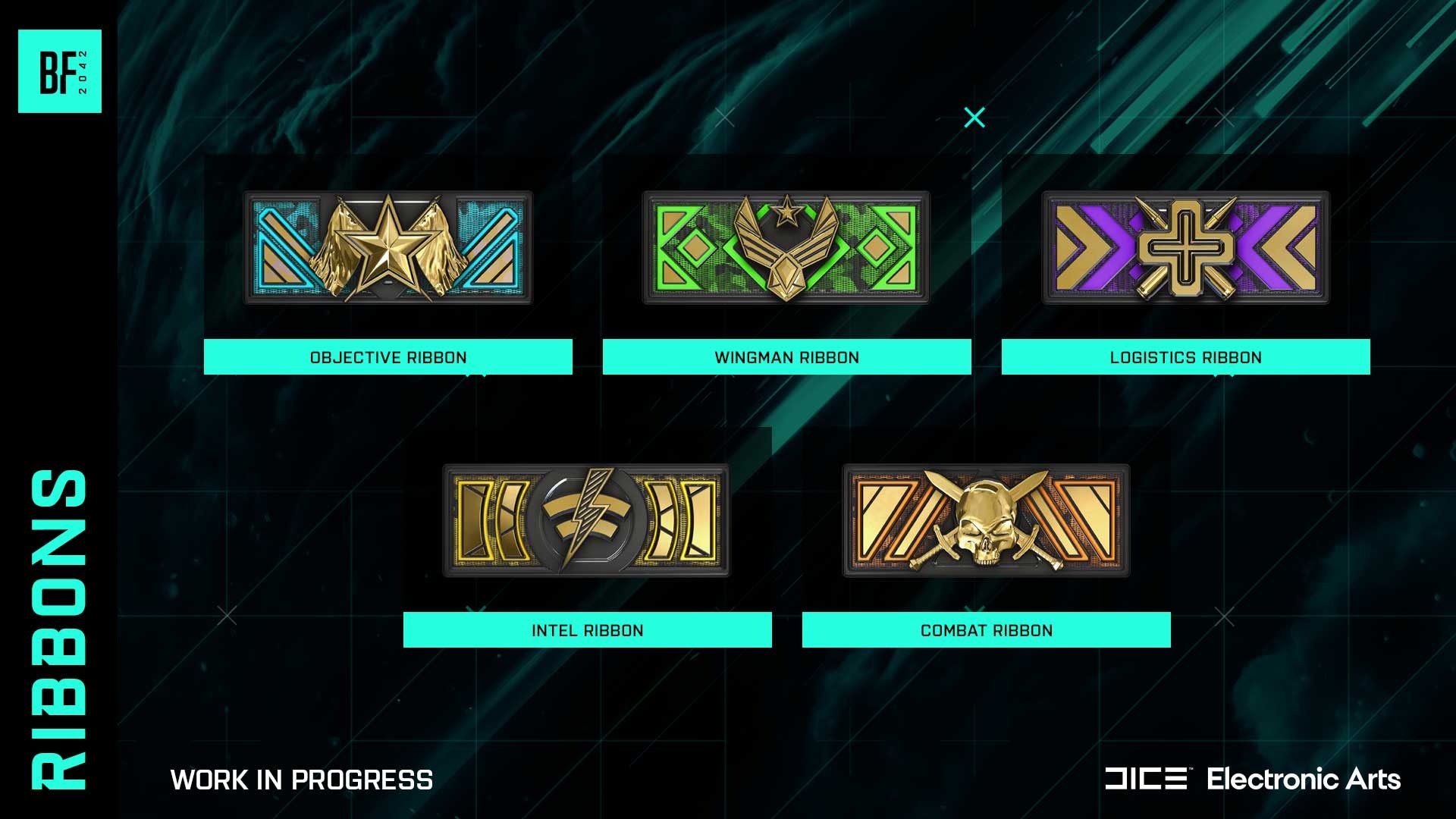 As you earn XP, you will level up your account and unlock rewards. These rewards include Specialists, weapons, vehicles, gadgets, and a variety of cosmetics. It seems that everyone who buys the base game, whether or not they've purchased a season pass, can unlock these rewards. DICE also states that when "first starting your journye, you'll have access to avaried set of Specialists, weapons, vehicles, and gadgets" already. The max player level at launch is 99; however, you can continue to earn prestige S-Levels from S001 to S999.
When you unlock a weapon, you can also master that weapon. As with previous Battlefield titles, the more you play and get kills with a weapon, the more XP you'll earn for that specific weapon. Leveling up a weapon will unlock new cosmetics and attachments for it, such as new skins and scopes. The same applies to vehicles and, it appears, Specialists. The more you play with them, the more you level them up.
Each weapon, vehicle, and Specialist will have five mastery tiers, with T1 being the highest tier. DICE is also bringing back badges, with each mastery tier unlocking a new badge. It's unclear how many kills you will need to get with each weapon per tier.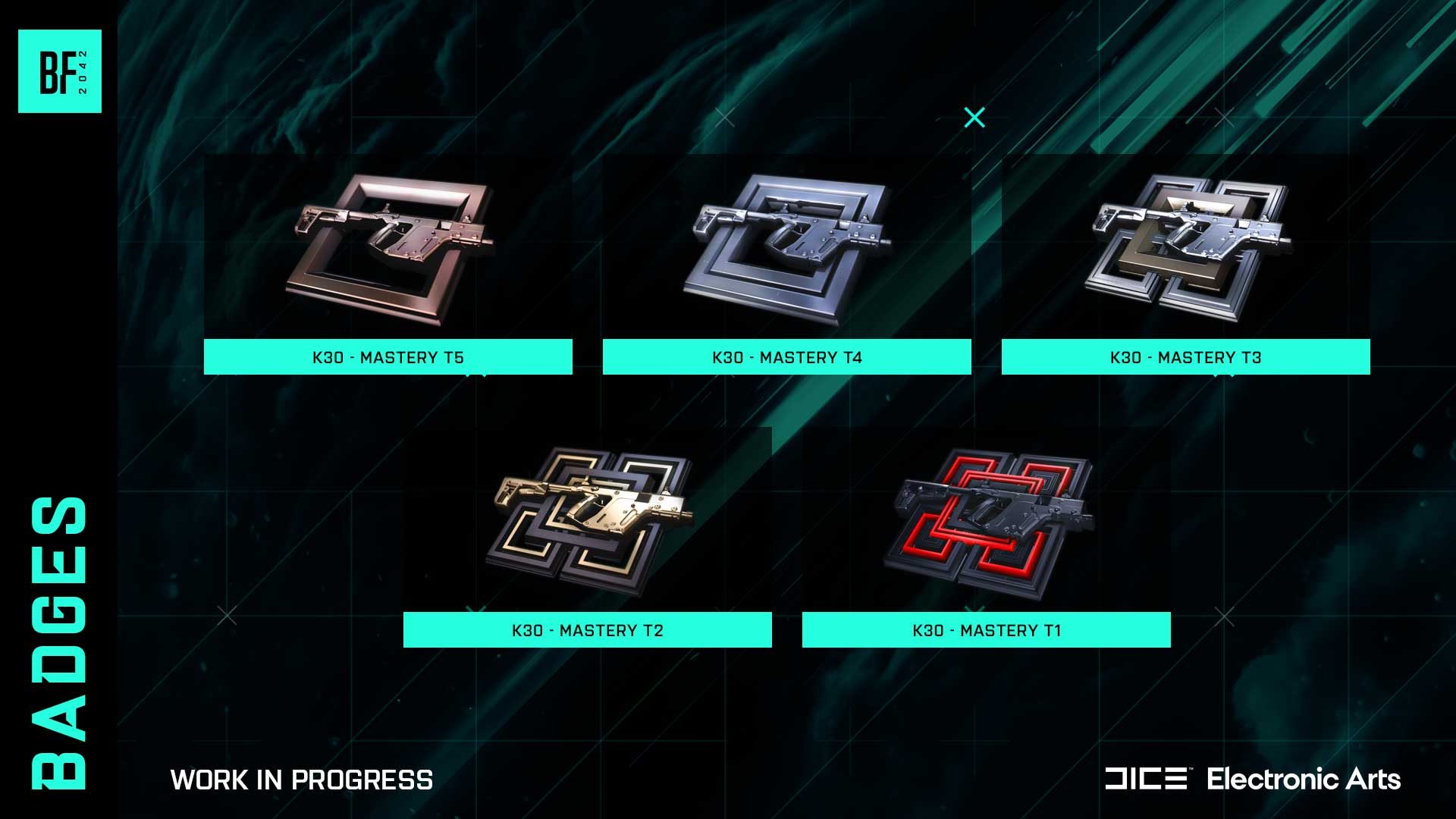 Cosmetics and more
Mastering a weapon, vehicle, or Specialist will also unlock new cosmetics for each. DICE gave a small preview of what Tier 1 cosmetics will look like for a Specialist, an assault rifle, and an attack chopper.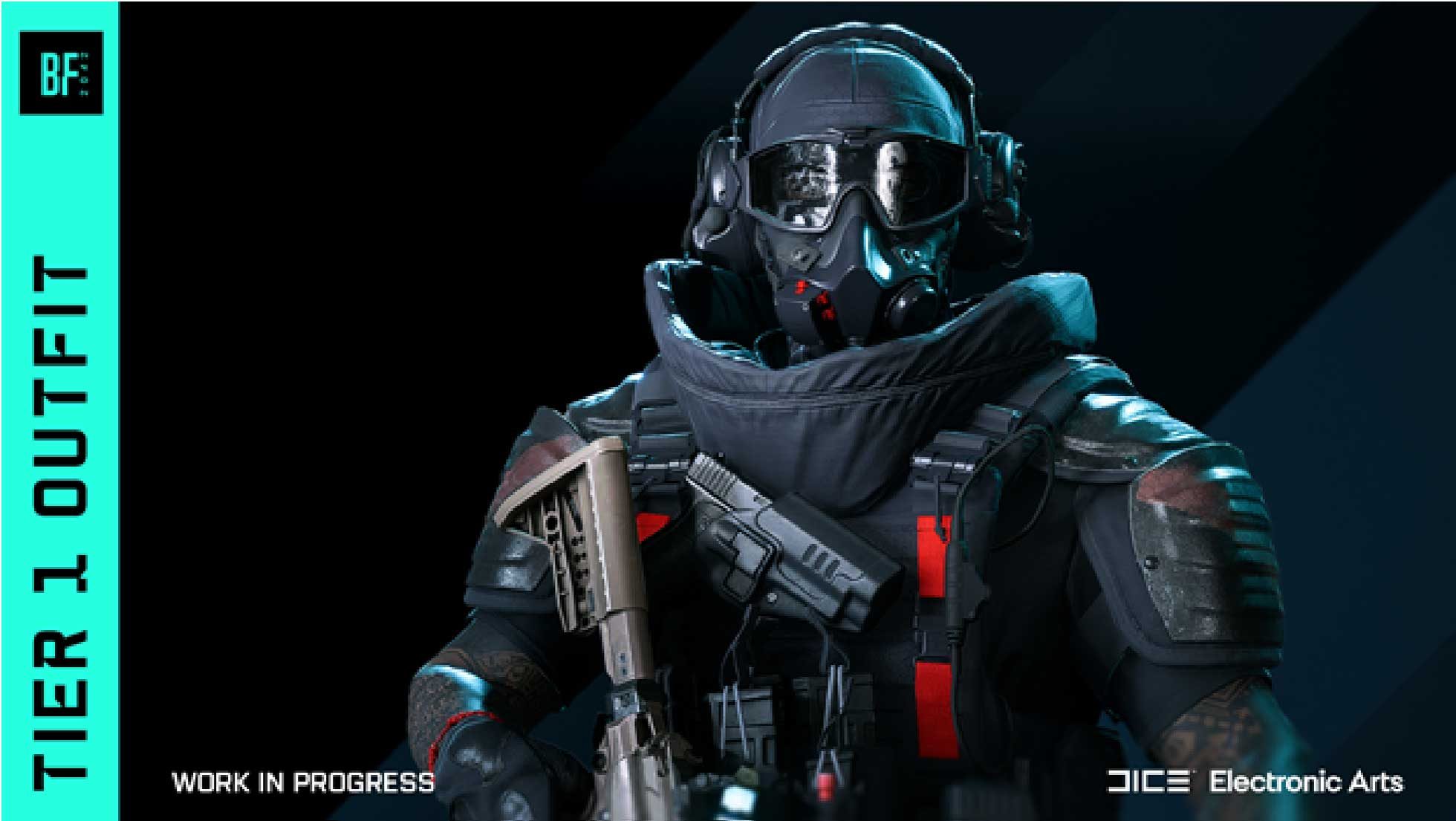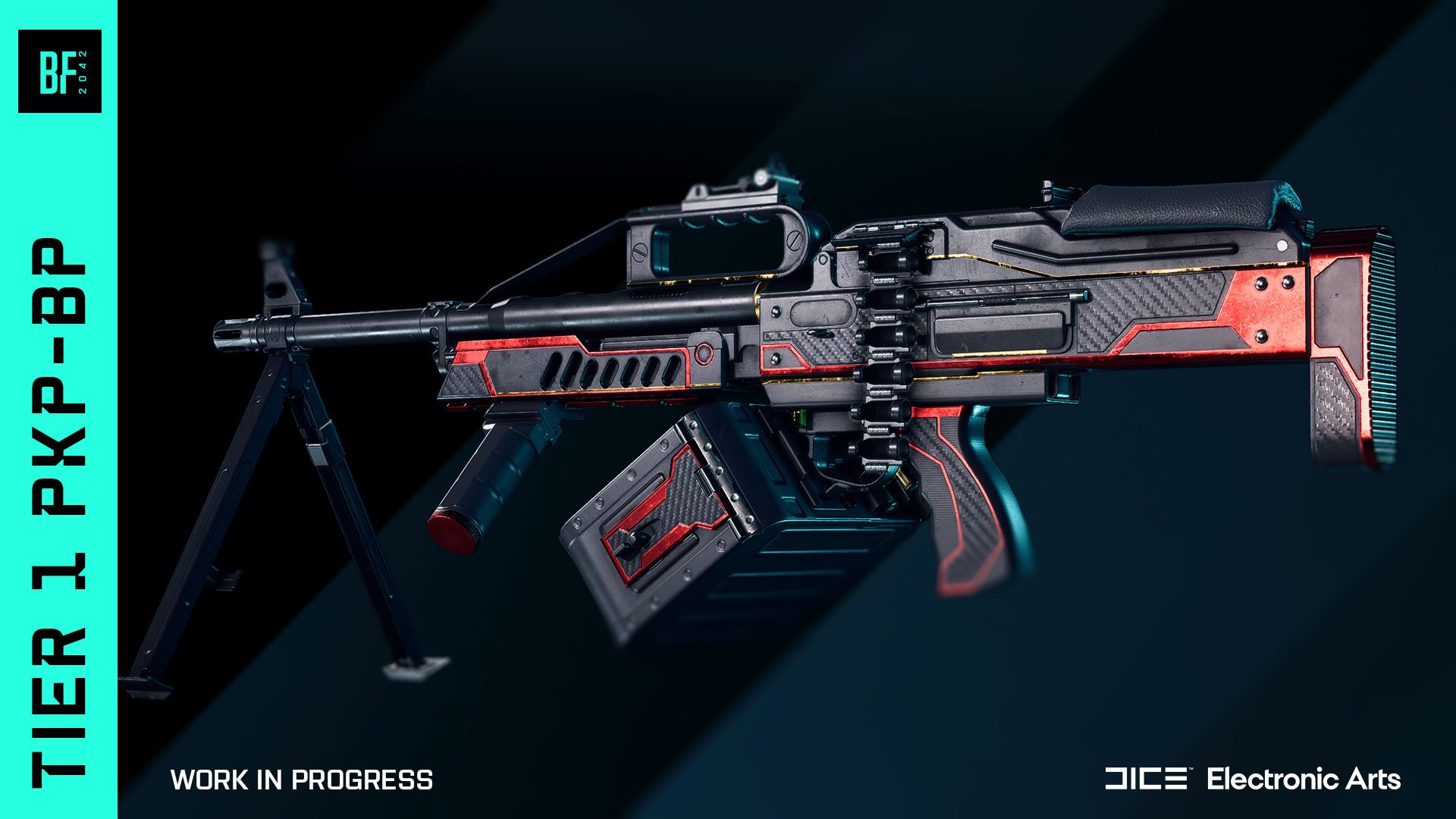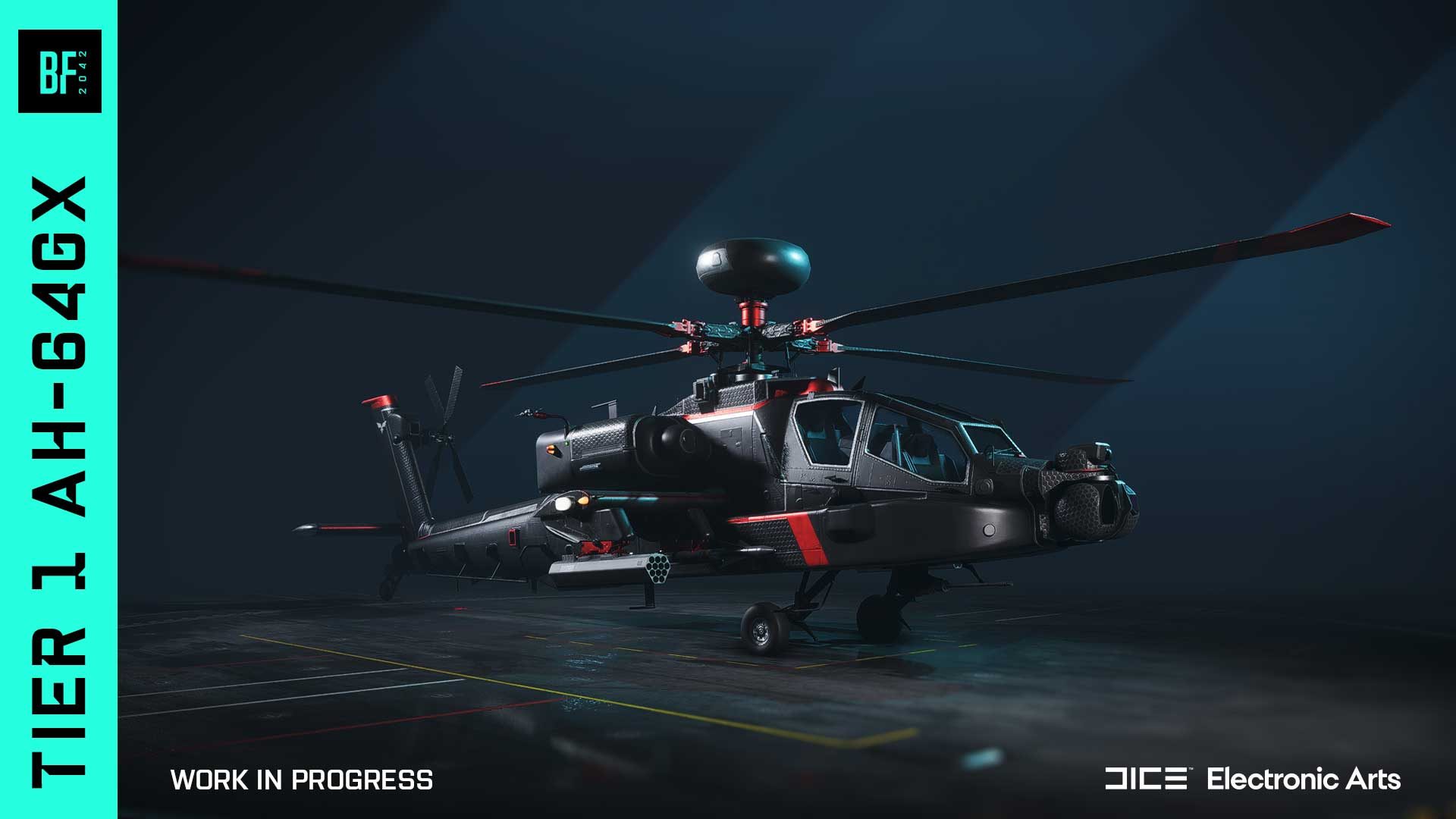 But those aren't the only cosmetics you can unlock. In fact, each Specialist, weapon, and vehicle will have different cosmetics with different rarity levels: Common (Gray), Rare (Blue), Epic (Purple), and Legendary (Gold). Rare and Epic Specialist skins will have different Headgear and Body components, meaning you can mix and match ala Battlefield V. However, if you want to wear a Legendary skin, you will have to wear the entire outfit.
Weapon skins, on the other hand, apply to the entire weapon. You can swap out different weapon charms, though. You can customize vehicles with both skins and decals. Finally, you can unlock new melee weapons, "all of which have their own unique Takedown animation tied to them."
Last but not least are player cards. DICE gave us a look at Battlefield 2042's work-in-progress player cards, which share an uncanny resemblance to Call of Duty's player cards. Each card will include the player icon, name, title, badges, level, and what platform they're playing on. Players can also choose what art is on the card.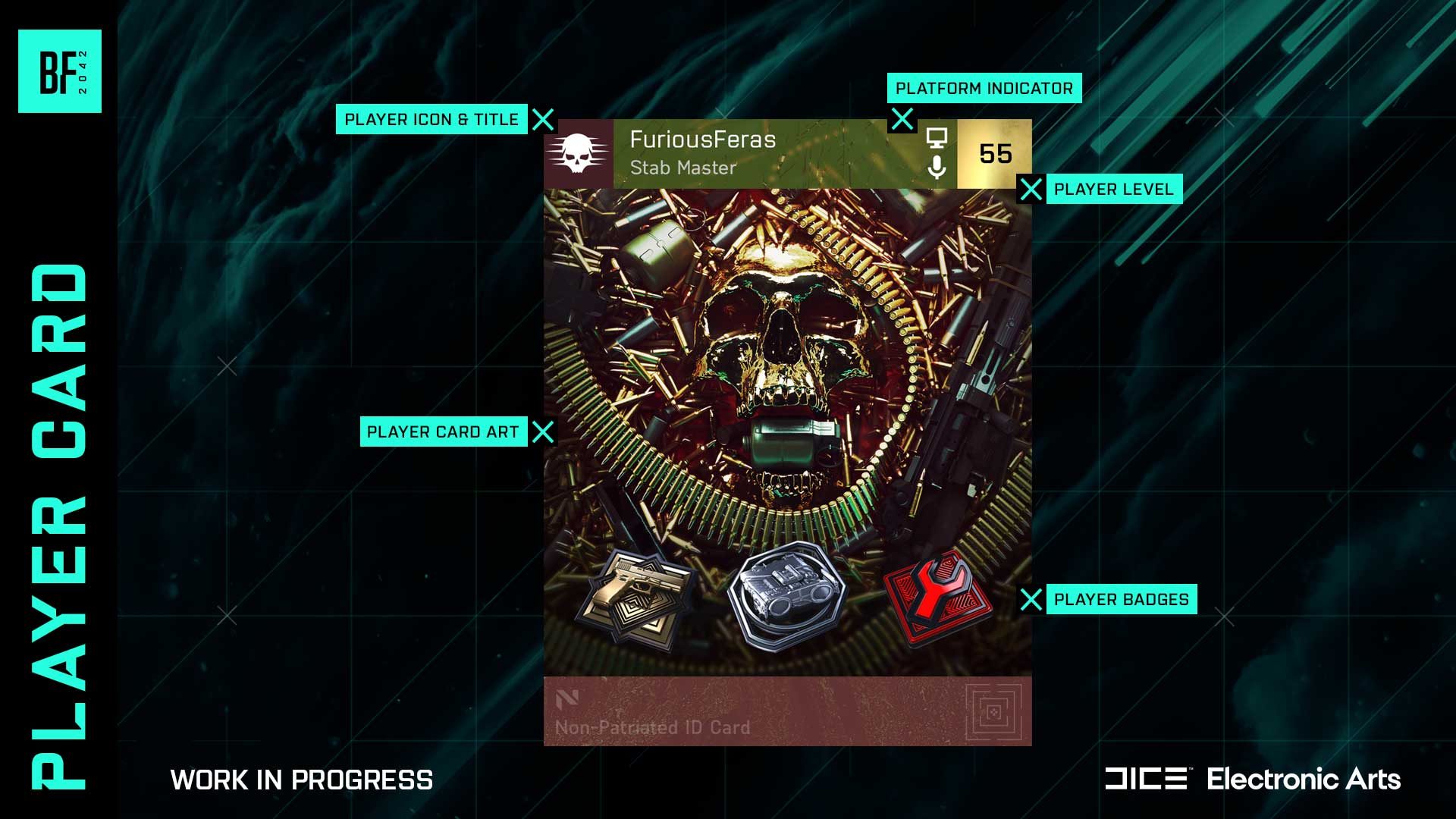 Battlefield 2042 launches November 19th for Xbox Series X/S, PS5, Xbox One, PS4, and PC.
Michael Goroff has written and edited for EGM since 2017. You can follow him on Twitter @gogogoroff.